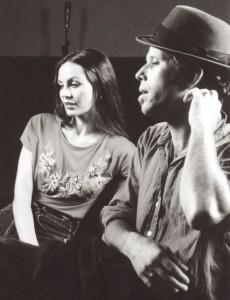 Soms is de muziek allesbepalend voor de sfeer van een film, en dat geldt zeker voor One From The Heart van Francis Ford Coppola uit 1982. De prachtige muziek van Tom Waits is totaal geïntegreerd in het ontroerende verhaal van twee wanhopige mensen die elkaar vinden maar ook weer kwijt raken.
Je krijgt hier de gelegenheid om een kijkje in de keuken te nemen bij het maken van de filmmuziek, met Tom Waits zelf als verteller. Je ziet beelden van de repetities en intensieve gesprekken tussen de regisseur, componist en zangeres. (*1)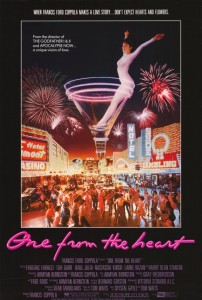 Veel van de muziek is instrumentaal, maar er zijn ook een paar prachtige liederen bij, zoals Broken Bicycles en I Beg Your Pardon, die gezongen worden door Tom Waits en Crystal Gayle. Het lied Take Me Home wordt in de film door haar gezongen, maar hier zie je hem zelf in een opname voor de Franse televisie.
NOTEN
*1 Hier het tweede deel.
Take Me Home
Take me home
you silly girl,
put your arms around me.
Take me home
you silly girl,
all the world's not round without you.
I'm so sorry that I broke your heart.
Please don't leave my side.
Take me home
you silly girl,
cause I'm still in love with you.