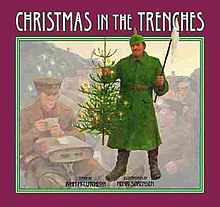 Vandaag vertel ik hier een waar gebeurd kerstverhaal uit de Eerste Wereldoorlog. Die was vastgelopen in een loopgravenoorlog en ontaard in een zinloze slachting met onbeschrijfelijke gruwelen. Maar er gebeurde iets totaal onverwachts en hoopvols op 25 december 1914.
Ter hoogte van het Belgische stadje Ieper in West Vlaanderen, waren het de Duitsers die als allereersten vanuit de loopgraven met brandende kaarsen versierde kerstbomen omhoog staken, met daaraan bordjes met de tekst "Merry Christmas", terwijl ze tegelijkertijd riepen "You no shoot, we no shoot". De Duitsers begonnen kerstliederen te zingen, die de Britten beantwoorden met Engelse tegenhangers. Overal was ineens de groet "Merry Christmas" te horen. Eén voor één klommen de soldaten uit hun loopgraven en betraden een stuk niemandsland dat bezaaid lag met rottende lijken. Daar toonden de vijanden elkaar in tranen foto's van hun dierbaren. Ze omhelsden elkaar en deelden hun rantsoenen en tabak. Ze speelden zelfs voetbalwedstrijden tegen elkaar en roosterden gemeenschappelijk een varken. Mannen die elkaar nog maar enkele uren daarvoor op leven en dood bestreden, verbroederden en deelden hun diepste gevoelens. Ze spraken met elkaar af, dat ze zo gauw ze opdracht zouden krijgen om weer tegen elkaar te moeten vechten, ze bewust in de lucht over elkaars posities heen zouden schieten.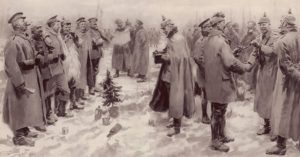 Maar het gebeurde niet alleen in Ieper. Die 1e kerstdag in 1914 werden op veel meer plekken de vijandelijkheden tijdelijk gestaakt. Over een lengte van 2/3e van het front, legden 100.000 Duitse, Britse en Franse soldaten spontaan de wapens neer en zochten toenadering tot elkaar. Alsof het een plotseling doorgebroken collectief bewustzijn betrof. Dat gebeurde tegen iedere officiële order in. Wat nogal een risico was, want het weigeren van orders in oorlogstijd vormde een ernstig vergrijp waarvoor door de krijgsraad zelfs de doodstraf gegeven kon worden. De gruwelijke moordmachine die de oorlog was haperde ineens en kwam zo praktisch tot stilstand. De wederzijdse oppercommando's waren hiervoor totaal in shock, want volgens hen dreigde er zo een militaire ramp te ontstaan.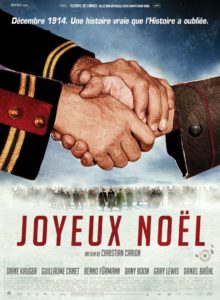 Soldaten die elkaar behoorden af te slachten verbroederden zich. Beide oppercommando's spraken af deze daad als verraad te beschouwen en de schuldigen voor de krijgsraad te slepen. De strijd luwde zelfs tot maart 1915, om pas daarna weer als vanouds op gang te komen. Met als gevolg dat aan het eind van de oorlog in 1918 uiteindelijk 15 miljoen jonge mannen hun leven hadden verloren. Hier lees je meer over deze bijzondere kerstdag.
De Amerikaanse singer/songwriter John McCutcheon schreef geïnspireerd door dit historische voorval, het prachtige lied "Christmas In The Trenches", dat komt van zijn album "Winter Solstice" (1984). Daarnaast is het verhaal 2005 op indrukwekkende wijze verfilmd door de Franse regisseur Christian Carion als "Joyeux Noel". Hier kun je de trailer zien.
Christmas In The Trenches
My name is Francis Toliver,
I come from Liverpool.
Two years ago the war was
waiting for me after school.
To Belgium and to Flanders,
to Germany to here,
I fought for King and country
I love dear.
It was Christmas in the trenches,
where the frost so bitter hung.
The frozen fields of France were still,
no Christmas song was sung.
Our families back in England
were toasting us that day,
Their brave and glorious lads
so far away.
Well I was lying with my messmate
on the cold and rocky ground,
when across the lines of battle
came a most peculiar sound.
Says I, "Now listen up, me boys!"
each soldier strained to hear,
As one young German voice
sang out so clear.
"He's singing bloody well, you know!",
my partner says to me.
Soon, one by one, each German voice
joined in harmony.
The cannons rested silent,
the gas clouds rolled no more,
as Christmas brought us
respite from the war.
Well as soon as they were finished
and a reverent pause was spent,
"God Rest Ye Merry, Gentlemen"
struck up some lads from Kent.
The next they sang was "Stille Nacht,"
"'Tis 'Silent Night,'" says I,
and in two tongues
one song filled up that sky.
"There's someone coming towards us!",
the front line sentry cried.
All sights were fixed on one lone figure,
trudging from their side.
His truce flag like a Christmas star,
shone on that plain so bright,
as he bravely
strode unarmed into the night.
Soon one by one on either side
walked into No Man's Land,
with neither gun nor bayonet
we met there hand to hand.
We shared some secret brandy,
and wished each other well,
and in a flare lit soccer game
we gave 'em hell.
We traded chocolates, cigarettes,
and photographs from home.
These sons and fathers far away
from families of their own.
Young Sanders played his squeezebox.
They had a violin,
this curious and unlikely band of men.
Soon daylight stole upon us,
and France was France once more.
With sad farewells we each began
to settle back to war.
But the question haunted every heart
that lived that wondrous night:
"Whose family have I fixed
within my sights?"
It was Christmas in the trenches
where the frost so bitter hung.
The frozen fields of France were warmed
as songs of peace were sung.
For the walls they'd kept between us
to exact the work of war,
had been crumbled
and were gone forevermore.
Oh my name is Francis Toliver,
in Liverpool I dwell.
Each Christmas come since World War I,
I've learned its lessons well.
That the ones who call the shots
won't be among the dead and lame,
and on each end of the rifle
we're the same.