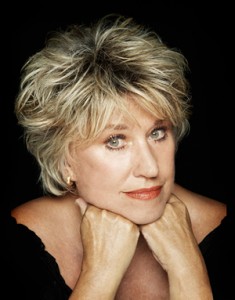 In 1968 zag ik mijn eerste musical in de Utrechtse Schouwburg. Anatevka was het met Lex Goudsmit (1913-1999) en Enny Mols-de Leeuwe (1898-1982) in de hoofdrollen. Het was een bewerking van Fiddler On The Roof (1964) met muziek van de Amerikaanse componist Jerry Bock (1928-2010) en tekst van de Amerikaanse tekstschrijver Sheldon Harnick. Er zaten onvergetelijke liedjes in, zoals Als ik toch eens rijk was en Hou je van me. Als jochie van twaalf vond ik het buitengewoon indrukwekkend. En ik werd verliefd op Jenny Arean die een bijzondere bijrol speelde, als Hodol de tweede dochter van Tevje.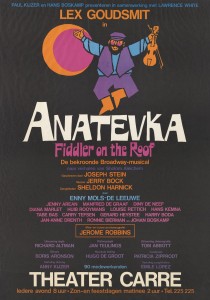 Onlangs kwam ze weer bij me in beeld, dankzij een tip van Jacques Klöters van het radioprogramma de Sandwich. Hij raadde me aan om eens te luisteren naar het nummer Of 't nou helpt of niet van Jenny Arean en het septet Tango Dorado. Het lied werd in 1992 geschreven door de Franse singer/songwriter Julien Clerc samen met tekstschrijver Etienne Roda-Gil (1941-2004) en kreeg als titel Utile. De vertaling uit 1999 is van Ivo de Wijs. Het werd geïnspireerd door een toneeltekst van de Duitse schrijver Bertolt Brecht (1898-1956) waarin een vrouw die leeft onder het juk van de nazi's alsmaar te horen krijgt "Dat helpt toch niet"!" en die uiteindelijk heel hard terugschreeuwt "Doe dan iets dat wel helpt!" In deze heftige tijden van aanslagen en de vele vluchtelingen die naar hier komen op zoek naar veiligheid, willen we allemaal wel iets doen dat helpt. Muzikanten maken muziek en zangers die zingen om ons wakker te maken, ons een hart onder de riem te steken en ons te raken. Als je doet wat binnen je eigen kwaliteiten en mogelijkheden ligt dan draag je iets zinnigs bij.
Of 't nou helpt of niet
De wereld is nog net zo'n zwijnenstal als toen.
En toch hou ik die drang om er iets aan te doen.
Ik zou zo graag iets doen, aan honger en verdriet.
Ik doe wat ik kan, of het nou helpt of niet.
Het streven naar geluk, naar zon in het verschiet.
Ik doe wat ik kan, ik stop het in een lied.
't Is geen gebalde vuist, het is geen dynamiet.
Ik doe wat ik kan, iets anders kan ik niet.
Wat woorden op muziek, wat woorden zonder meer.
't Is door de jaren heen mijn enige verweer.
Ik ben geen lieve heer, ik ben geen hoge piet.
Ik doe wat ik kan, ik zing gewoon mijn lied.
Het is niet veel maar toch, geloof het maar van mij.
Zo dikwijls brengt een lied de hemel dichterbij.
Het maakt van de woestijn een lommerrijk gebied.
Ik doe wat ik kan, of het nou helpt of niet.
De nacht is lang en zwart, het regent dat het giet.
Ik doe wat ik kan, ook als geen mens het ziet.
Het is niet modieus, het is niet hypocriet.
Ik doe wat ik kan, ik zing gewoon een lied.
Ik zou zo graag iets doen aan honger en verdriet.