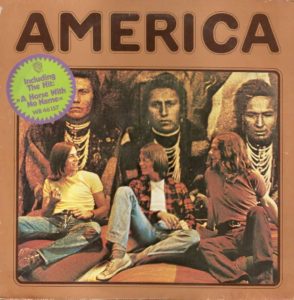 In 1972 draaide ik eindeloos het debuutalbum van de groep America met heerlijke nummers als Horse With No Name, Riverside, Sandman & I Need You. De groep bestond uit Dewey Bunnell, Dan Peek (1950-2011) & Gerry Beckley, die elkaar kenden van de de London Central High School. Hun vaders zaten in de Amerikaanse luchtmacht en waren gestationeerd op de RAF basis South Ruislip vlakbij Londen. Toen ze samen muziek gingen maken, noemden ze zichzelf America, omdat ze niet wilden dat de mensen zouden denken dat ze Engelse muzikanten waren die Amerikaans wilden klinken.
Ik had de plaat in 1974, aan het einde van het schooljaar, meegenomen naar een boerderij in Kotten, waar we met een aantal klasgenoten een weekje vakantie vierden. America stond daar heel vaak op, totdat op een gegeven moment het geluid opeens heel vreemd klonk. Wat bleek twee jonge katjes waren met de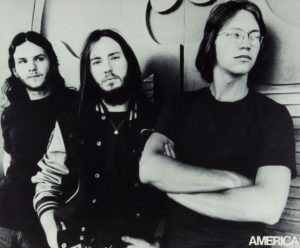 platenspeler gaan spelen en probeerde zich staande te houden op een draaiende plaat. Gelukkig viel de schade nog mee en hebben we nog veel genoten van de muziek.
Ik vond een bijzondere opname van het muzikale BBC programma The Old Grey Whistle Test uit 1971, waar America onder andere hun nummers Riverside en Children speelden. Beide werden geschreven door Dewey Bunnell.
Riverside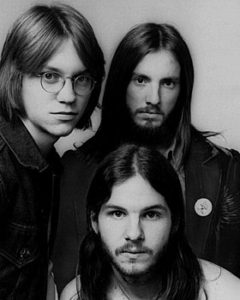 Living on the riverside.
Taking it all in my stride.
Living on the riverside.
I'm taking life like a big long ride.
You stay on your side,
and I'll stay on mine.
You take what you want,
and I'll take the sunshine.
I said the world
don't owe me no living.
I said the world
don't owe me no living.
Children
The boy cried out gaily on the ground,
at the joy of something he had found.
Aw come on children
get your heads back together.
The days are getting warmer now.
The nights are getting shorter now.
And you know we can make it,
'cause you know we're alive.
But we don't have to take it,
any way we'll survive.
If I were you,
I'd throw it far away.
But if you were me,
you'd tell me I should stay.
Aw come on children
get your heads back together.
Aw come on children,
get your heads back together again.