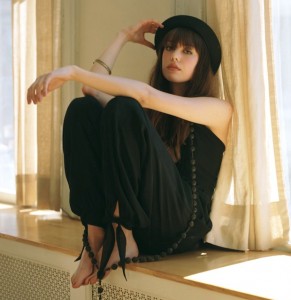 Mijn favoriete live nummer van dit moment is een duet tussen de rising star Diane Birch en de oude rot Daryl Hall. Het lied brengt me terug naar de jaren '70, toen ik via James Taylor kennismaakte met de muziek van Carole King.
Diane Birch is een 27-jarige Amerikaanse singer-songwriter, die muziek maakt als een "old soul". Daryl Hall zei tegen haar: "Ik probeer er achter te komen waarom je schrijft zoals je doet en waar je door beïnvloed bent, omdat ik naar je muziek luister en ik dezelfde dingen hoor die bij mij spelen. Maar toen hoorde ik dat je opgegroeid bent in de kerk, en toen begreep ik het, want dat ben ik ook." Haar vader was pastor bij de Zevendedags Adventisten en daardoor werd ze zeer afgeschermd en conservatief opgevoed in een relatief kleine religieuze gemeenschap, met weinig interactie met de wereldlijke omgeving. Zonder radio en tv en met alleen kerkelijke en klassieke muziek om haar heen. Men gaan er vanuit dat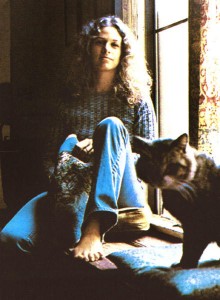 ze beïnvloed is door Carole King en Laura Nyro, maar daar is ze pas naar gaan luisteren toen mensen haar attendeerden op de overeenkomsten. Ze is opgegroeid alsof het vijftig jaar eerder was en artiesten uit de jaren '70 hadden vaak eenzelfde achtergrond en kwamen ook vaak uit een conservatief milieu.
Diane leerde piano spelen vanaf haar zevende, en kreeg les volgens de zogenaamde Suzuki-methode, waardoor ze in staat is om te kunnen spelen wat ze hoort. Ik had daar nog nooit van gehoord, maar al lezende spreekt de methode en de filosofie erachter me enorm aan, vandaar hieronder een uitgebreide noot. (*1)  
Daryl Hall (oorspronkelijk Hohl) is inmiddels 63 en natuurlijk vooral bekend van Hall & Oates, die met hun mix van R&B, soul en rock, meer platen hebben verkocht dan enig ander duo in de muziek geschiedenis.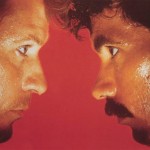 Denk aan nummers als Rich Girl, Kiss On My List, I Can't Go For That, Maneater en Everytime You Go Away, dat bekend is geworden door Paul Young. Opgegroeid in de straten van Philadelphia, begon hij als sessie muzikant en achtergrond zanger voor Gamble & Huff, de pioniers van de Philadelphia Soul. Hall heeft tegenwoordig een maandelijkse webcast Live from Daryl's House, waarin hij optreedt met gasten, zoals Smokey Robinson, Todd Rundgren en The Doors en aankomende artiesten als K.T. Tunstall, Eli Paperboy Reed en Diana Birch. Daarnaast restaureert hij historische huizen in de VS en Engeland.
In beeld zit naast Daryl Hall, Tom T-Bone Wolk (1951-2010) met zijn lead-gitaar. Hij was sinds 1981 de bassist en musical director van Hall & Oates en overleed afgelopen februari aan een hartaanval. Hij speelde o.a. met Carly Simon en Billy Joel. Zijn muzikale liefde was voor acoustische, organische, rootsy, bluesy, swampy, funky,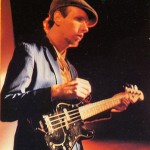 soulful muziek en hij droomde ervan om in een band te mogen spelen met Nick Lowe en G.E. Smith (Hall & Oates, Bob Dylan) op gitaar, Terry Adams (NRBQ) op toetsen en Levon Helm (The Band) op drums. De beste bass line was volgens hem te horen op Ain't Nothing Like the Real Thing door James Jamerson (*2) en Silly Love Songs door Paul McCartney.
NOTEN
*1 Shinichi Suzuki (1898-1998) was een Japanse violist die moeite had met het leren van de Duitse taal. Het viel hem op dat jonge kinderen juist heel snel zijn in het aanleren van een taal of zelfs van een ingewikkeld dialect, omdat het hun moedertaal is. Doorredenerend kwam hij op het idee dat als kinderen dat kunnen, ze ook van nature over de vaardigheid moeten beschikken om een instrument te kunnen spelen.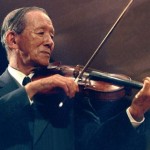 En dat alle kinderen dat kunnen leren met behulp van de juiste omgeving. Talent is volgens hem niet aangeboren, maar wordt gevormd door middel van training en hard werken. Blijven oefenen tot het natuurlijk en gemakkelijk wordt. Tegelijkertijd bevorder je daarmee de karakter-ontwikkeling van een kind. Deze ideeën vormden de basis voor zijn Talent Educatie Methode (sainō kyōiku). Uitgaan van het natuurlijke proces van horen, nadoen en herhalen. Jong beginnen en de ouders er heel intensief bij betrekken. Een kind de vrijheid geven om iets te leren, gemoedelijk en speels. Het daarbij aanmoedigen, met liefde fouten verbeteren en het vertrouwen geven door te wijzen op wat het kind al wel kan. Niet zuiver technisch, maar doordrongen van hart en geest. Suzuki was sterk beïnvloed door de vreselijke gebeurtenissen in zijn land tijdens de tweede wereldoorlog. Zijn doel was om kinderen schoonheid bij te brengen en ze te helpen ontwikkelen tot evenwichtige, ruimdenkende en sociaal voelende volwassenen. Volgens hem is een kunstwerk een uiting van de persoonlijkheid, de gevoelens en bekwaamheid van een mens. Een echte kunstenaar is iemand met edele gevoelens, gedachten en gedragingen en met een nobel hart. "Als een kind mooie muziek hoort vanaf de geboorte en het die muziek zelf leert spelen, ontwikkeld het sensitiviteit, discipline en doorzettingsvermogen en krijgt het een mooi hart."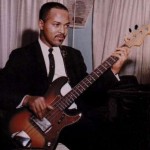 *2 James Jamerson (1936-1983) was volgens T-Bone Wolk "de God van de Fender Bass". Hij is ondermeer te horen op What's Going On (Marvin Gaye 1971) en op Rock The Boat (The Hues Corporation 1974). Door zijn innovatieve manier van spelen heeft de bas een veel belangrijkere rol gekregen in de moderne muziek. Na een fietsongeval als kind zat hij een jaar in een rolstoel en heeft hij altijd mank gelopen, wat zijn zelfvertrouwen geen goed heeft gedaan. Nadat hij per toeval zijn instrument, de contrabas, had ontdekt, speelde hij van jongs af aan in allerlei jazzclubs. Vanaf het begin was hij betrokken bij Motown Records en begon hij deel uit te maken van de befaamde Funk Brothers, de Motown studio band. In 1961 switchte hij naar de electrische Fender basgitaar, waardoor het basgeluid meer naar voren kwam. Zijn geluid werd zo cruciaal voor Motown dat opnames werden uitgesteld als hij niet beschikbaar was en hij 1000 dollar per week verdiende. Uiteindelijk ging het mis door zijn chronische alcoholisme en emotionele problemen en bracht hij zijn laatste jaren door in ziekenhuizen en psychiatrische inrichtingen.
Nothing But A Miracle
Gettin' tired of living
Living for a moment
Gettin' tired of hanging on the line
Wake up every morning
And I pull back the curtain
Wonder if it's gonna rain or shine
Gettin' tired of thinking
Gettin' so tired of begging
Gettin' tired of forgetting
That there's two of us
I'm getting so tired of loving a man
That just don't give a damn
Just tell me
Tell baby why I'm holding on
When your loving's long gone
I got a good mind
So why don't you tell me why
I can't say goodbye
Just tell me baby, why I've been holding on
For so long
And nothing but a miracle is gonna bring ya back
Bring ya back to me now
I gotta get myself together
Gotta stop telling myself that I can do no better
Gotta go out and maybe start meeting some new people
I gotta go out and buy myself one of those little black dresses
Cause I'm so tired of this t-shirt
I'm so tired of cryin' off all my make up
Gettin' just so tired of waking up
With a lonely heart
I'm getting so tired of giving a damn
About an absent hearted man
Just tell me
Tell me baby why I'm holding on
When your love is long gone
I got a good mind
So why don't you tell me why
I can't say goodbye
Just tell me baby why I've been holding on
For so long
And nothing but a miracle is going to bring it back
Bring you back to me now
Oh, I can see it (Coming down the shadows)
I can see it (It's coming through the windows)
Oh, I can see it (Coming down the ceiling)
I can't escape the feeling
Can't escape the feeling
Tell me baby, why I'm holding on
When your love is long gone
I got a good mind
So why don't you tell me why
I can't say goodbye
Just tell me baby, why I've been holding on
For so long
And nothing but a miracle is gonna bring it back
Bring ya back to me now
Oh, nothing but a miracle
Is gonna bring you back to me now.