De Franse zangeres Barbara (1930-1997) vertelt in haar ontroerende lied Nantes (1963) het verhaal dat ze net te laat kwam voor het overlijden van haar vader Jacques Serf, die haar als jong kind misbruikt had en het gezin in de steek had gelaten toen ze 10 jaar oud was. Op een dag in 1959 werd zij gebeld door het ziekenhuis in Nantes. Ze werd verzocht daarheen te komen op verzoek van haar vader. Hij wilde zich "warmen aan mijn glimlach, maar hij stierf nog diezelfde nacht, zonder een 'adieu' of een 'ik hou van je'." Wat een ontroerend mooi lied. De prachtige Nederlandse vertaling is van Annemieke Wetting.
In het lied komt het fictieve adres "vingt-cinq rue de la Grange-au-Loup" (Wolvenholstraat 25) voor. De gemeente Nantes heeft alsnog in een nieuwbouw buitenwijk een straat deze naam gegeven.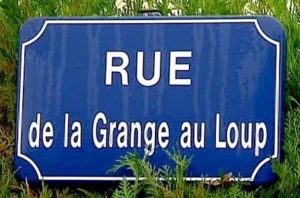 Het straatbord werd in 1986 door Barbara zelf onthuld.
Hier hoor je de versie van cabaretière, zangeres & actrice Lia Dorana (1918-2010), in de vertaling van Ernst van Altena. Het komt van haar album Solo '68 (1968)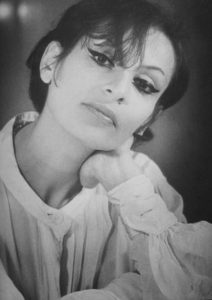 Nantes
Il pleut sur Nantes,
donne-moi la main.
Le ciel de Nantes rend
mon cœur chagrin.
Un matin comme celui-là,
il y a juste un an déjà.
La ville avait ce teint blafard
lorsque je sortis de la gare.
Nantes m'était encore inconnue,
je n'y étais jamais venue.
Il avait fallu ce message
pour que je fasse le voyage.
"Madame soyez au rendez-vous,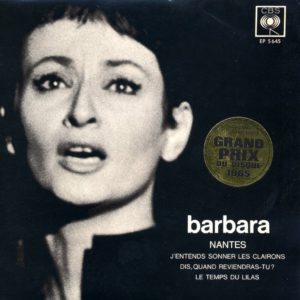 vingt-cinq rue de la Grange-au-Loup.
Faites vite, il y a peu d'espoir,
il a demandé à vous voir."
A l'heure de sa dernière heure,
après bien des années d'errance.
Il me revenait en plein cœur,
son cri déchirait le silence.
Depuis qu'il s'en était allé,
longtemps je l'avais espéré.
Ce vagabond, ce disparu,
voilà qu'il m'était revenu.
Vingt-cinq rue de la Grange-au-Loup,
je m'en souviens du rendéz-vous.
Et j'ai gravé dans ma mémoire
cette chambre au fond d'un couloir.
Assis près d'une cheminée,
j'ai vu quatre hommes se lever.
La lumière était froide et blanche,
ils portaient l'habit du dimanche.
Je n'ai pas posé de questions
à ces étranges compagnons
J'ai rien dit, mais à leurs regards,
j'ai compris qu'il était trop tard.
Vingt-cinq rue de la Grange-au-Loup,
il n'était plus au rendéz-vous.
Qu'il était mort à la nuit même,
sans un "adieu", sans un "je t'aime".
Voilà, tu la connais, l'histoire
de l'homme qui venait de nulle-part.
Et qui revint comme une épave,
du bout de son dernier voyage.
Du vagabond, du mal-aimé,
qui se remport long le passé.
Voulut avant de s'endormir,
se réchauffer à mon sourire.
Au chemin qui longe la mer,
couché dans le jardin de pierres.
Je veux que tranquille il repose,
à l'ombre d'une rose rose.
Mon père, mon père.
J'ai le coeur chagrin.
Donne moi ta main.
Nantes
Het heeft geregend op Nantes.
Geef me je hand.
De hemel boven Nantes
stemt mijn hart triest.
Net als op die morgen,
nu alweer een jaar geleden,
zag de stad er ook zo bleek uit.
Toen ik uit het station kwam,
kende ik Nantes nog niet,
was ik er nooit geweest.
Voor deze reis was de volgende boodschap nodig:
"Mevrouw zoudt u zo spoedig mogelijk
naar Wolvenholstraat 25 willen komen,
de situatie is hopeloos,
en hij heeft naar u gevraagd,
nu zijn leven ten einde loopt".
Na heel wat jaren van afwezigheid
trof hij me vol in mijn ziel.
Zijn schreeuw verscheurde de stilte
die er was na zijn vertrek.
Lange tijd had ik op hem gewacht,
op die zwerver die verdween.
En daar was hij weer zowaar.
Wolvenholstraat 25
duikt weer op uit mijn herinnering.
In mijn geheugen staat die ene kamer gegrift,
aan het eind van de gang.
Ik zag vier mannen opstaan
die voor een open haard zaten.
Het licht was kil en wit,
ze droegen hun zondagse pak.
Ik stelde geen vragen
aan die vreemde kerels.
Ik zei niets, maar ik zag aan
hun blikken dat het te laat was.
Toch kwam ik de afspraak na
op Wolvenholstraat 25.
Maar hij heeft me nooit meer gezien,
hij was al overleden.
Zo, nu ken je het verhaal,
van de man die uit het niets kwam.
Die terugkeerde als een wrak,
aan het eind van zijn laatste reis.
Die zwerver, die onbeminde,
die zijn verleden met zich meedroeg.
Die zich wilde warmen aan mijn glimlach,
maar hij stierf nog diezelfde nacht,
zonder een "adieu" of een "ik hou van je".
Op de weg die naar zee
door een bed van kiezels loopt,
wil ik dat hij in stilte rust,
in de schaduw van een roze roos.
Mijn vader, mijn vader.
Ik heb een hart vol verdriet.
Geef me je hand.