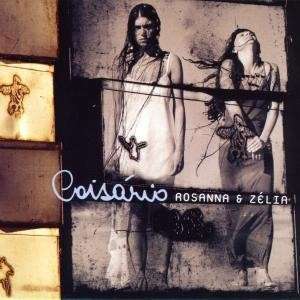 Op de deur van mijn woonkamer hangt al jaren deze poster van Rosanna & Zelia. Hij is me dierbaar vanwege de herinneringen aan twee bijzondere albums en een aantal memorabele concerten van dit Braziliaanse duo, dat bestond uit zangeres Rosanna Tavares (1962-2006) & gitariste Zelia Fonseca.
Ik hoorde ze voor het eerst eind jaren 90 bij een bezoek aan mijn geliefde Muziekbibliotheek in Utrecht waar de muziek te horen was in de prachtige ruimte met het glas-in-lood dak. Ik was verrast en nieuwsgierig tegelijk en nam twee albums mee naar huis: Passagem (1997) en Coisario (1999). In het begin begreep ik er niets van en vond ik het maar ingewikkelde muziek, die constant de mij bekende paden verliet. Het was zeker geen bossa nova, maar wat was het dan wel?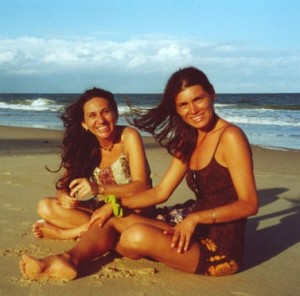 Ik werd er zo door gegrepen dat ik naar een concert ben gegaan in Austerlitz. En daar werd ik bekoord door de persoonlijkheden en uitstraling van de beide vrouwen en viel alles ineens op zijn plaats. Rosanna zong zo breekbaar en intens dat er een verliefd gevoel bovenkwam en de drang om voor haar te zorgen.
Ik sprak met hun manager en die was zo geraakt door mijn enthousiasme dat ze bij mijn vertrek achter me aankwam rennen met een poster. En die hangt er dus vanaf die dag, op een plek waar ik hem elke dag zie. Na Austerlitz wilde ik meer, en dus volgde nog een concert en nog eentje, en telkens weer was het weer even bijzonder. Ik werd geraakt en kwam tegelijkertijd vol energie thuis van zo'n bijzondere ervaring. De pareltjes van het leven! Zo was er een optreden in Amstelveen, waar maar 10 mensen kwamen opdagen voor deze onbekende grootheden.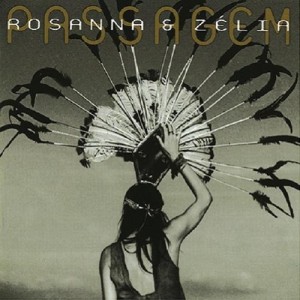 En zo kwamen we allemaal op de eerste rij te zitten en kreeg ik als gast het gevoel dat dit concert speciaal voor mij was bedoeld, omdat Rosanna me van dichtbij recht in mijn ogen aankeek en toezong. Verpletterend was het, zo enorm kwam het binnen. En er was dat optreden in een oude kerk ergens in de middle of niks. Die dag hadden Rosanna & Zelia als extra een Braziliaanse percussioniste meegenomen en dat maakte het feest helemaal compleet.
Om je een gevoel te geven van de muziek van Rosanna & Zelia heb ik gekozen voor één van de rustiger nummers, het betoverende Lady Mulimelancolica dat geschreven is door Ivan Santos en staat op het album Coisario. Bij een goede vriend van me die mee was naar het concert in Amstelveen, werd het de nummer één van zijn jaarlijkse top 50.
Lady Multimelancolica
Eu tava lindo, emboca ela baixou no bar,
dirijo meu olhar pra ela
Que traz por tras da pose enigmatica.
Alguem a mais sem ter mais a-quem amor.
I was about to leave the bar when she came in,
her eyes were tellin' me she's giving.
Her enigmatic smile just seemed to freeze the place
Her soul was cryin loud, for one soft embrace.
Seu riso a mela voz escureceu o ar.
Nao sei mais eu senti na hora.
Aquela lady multimelancolica.
Um dia ainda de ser alguem que rira.
She was lookin for someone to take what she could give.
Seemed she was tryin' to give to live.
I called her Lady Multimelancolica.
When I dream of her she does not seem that far.