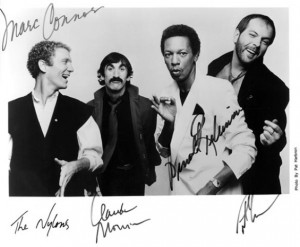 Grijsgedraaid heb ik hem, het album One Size Fits All (1982) van de Canadese acapella groep The Nylons. Dagen, weken, maanden stond hij op. En ik werd er steeds weer vrolijk van, net als van die paar concerten die ik van de groep gezien heb. Een heerlijke energie. En natuurlijk heb ik heel veel meegezongen met de plaat. Dat werd uiteindelijk de inspiratie om zelf ook acapella te willen zingen in groepen & koren.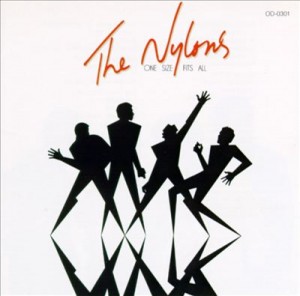 Alle nummers van het album zijn eigenlijk goed, dus welke te kiezen? Wordt het het opzwepende Up The Ladder To The Roof dat ik bij mijn koor Raaf zong als solist? Of toch Romance (If I Can Get It)? Of Silhouettes? Of Heavenly Bodies? Of Please? Als je op ze klikt kun je het nummer live zien. Maar ik kies deze keer voor Up On The Roof. Een nummer dat werd geschreven door Carole King & Gerry Goffin in 1962 en dat bekend werd in de uitvoering van The Drifters.
Up On The Roof
When this old world starts getting me down,
and people are just too much for me to face.
I climb right up to the top of the stairs,
and all my cares just drift right into space.
On the roof's the only place I know,
where you just have to wish to make it so.
Up on the roof.
When I get home feelin' tired and beat,
I go up where the air is fresh and sweet.
I get away from the hustling crowds,
and all that rat race noise down in the street.
At night the stars put on a show for free.
And darling you can share it all with me.
I keep a-telling you,
that right smack dab in the middle of town.
I found a paradise that's trouble-proof.
And if this old world starts getting you down,
there's room enough for two, up on the roof.
Up on the roof.
Come on babe, oh come on babe.
Up on the roof.