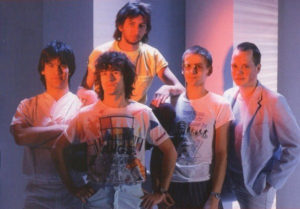 Begin jaren 80 ben ik zeldzaam uit mijn dak gegaan op de muziek van Toontje Lager. Heel bijzonder voor een introvert type als ik eigenlijk ben. Het was in de periode dat ik heel actief was als mentortrainer en organisator van de Introductiedagen voor de nieuwe studenten van de Universiteit Utrecht in 1982.
Ik was erg enthousiast over de band na het horen van hun plaat Er op of eronder (1982), met vrolijk makende muziek in nummers als Niks na de dood, In gedachten, Lente in Twente, Viel die maar, Het beest in mij, Het doet pijn en vooral hun grote hit Net als in de film. Ik had ze nooit live gezien, maar voelde aan mijn muzikale instinct dat ze iets bijzonders waren.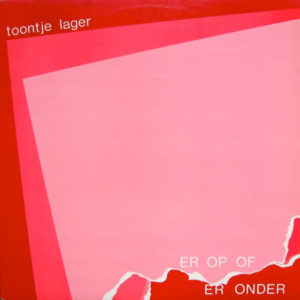 Ik vroeg ze voor het slotfeest en tot mijn eigen verbazing lukte het ook nog om ze daarvoor te krijgen. En als voorprogramma regelde ik ook nog die andere veelbelovende & succesvolle band uit die tijd, Het Goede Doel. Ongelofelijk eigenlijk als ik er nu zo over nadenk.
Op één van de eerste dagen van de Introductieweek, trad tot mijn verbazing Toontje Lager ook op bij SSR Jongerenvereniging op de Bemuurde Weerd, en daar heb ik ze toen voor het eerst echt mogen meemaken. Ik heb daar staan & springen & meegezongen dat het een lieve lust was, zodat het zweet met pijpenstelen van mijn lijf liep. De volgende dag was ik zo schor als een kikker, maar tegelijkertijd vol energie, zo had ik ervan genoten.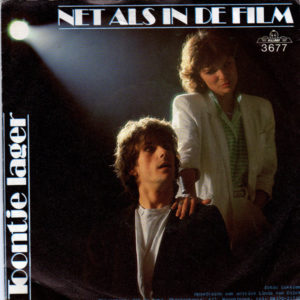 Het was lang de vraag of het slotfeest wel door zou gaan vanwege gedoe met de Gemeente Utrecht, die vond dat het om 23 uur afgelopen moest zijn vanwege geluidsoverlast, maar uiteindelijk na een nacht doorkachelen kregen we het toch voor elkaar. En werd Toontje Lager de feestelijke afsluiter die we gepland hadden, waarbij ik nogmaals veel gedanst, gesprongen en meegezongen heb, met iedereen om me heen met wie ik die week lief & leed had gedeeld.
Helaas is in deze opname van het lied Net als in de film, tijdens een optreden van Toontje Lager in 1983, het allerlaatste stukje zonder geluid. 't Is maar dat je het weet.
Net als in de film
Het was koud, het was donker.
Ik was helemaal alleen.
Toen de film was afgelopen,
ging ik nergens heen.
Ik staarde naar de televisies,
je hoofd gespiegeld in de etalageruit.
Je tikte op m'n schouders en je vroeg me,
"Ga je vanavond met me uit!"
Net als in de film, ik wil het.
Net als in de film.
Net als in de film, ik wil het.
We renden over gouden stranden.
We maakten vrienden bij de vleet.
We dronken, lachten en we vrijden.
Zoveel, zo vaak en zo compleet.
Je nam me mee op wolken
en je kreeg maar niet genoeg van mij,
je vrat me bijna op.
Geweldig vond je mij.
Je hield van me.
Je hunkerde, je smeekte,
je smachtte, kwijlde,
dweilde, likte, je …
Net als in de film, ik wil het.
Net als in de film.
Net als in de film, ik wil het.
Violen zwelden aan
vermengd met tranen
en je lippen op m'n huid.
Geluk van wereldklasse,
eeuwigdurend,
twee uur lang voluit.
Net als in de film, ik wil het.
Net als in de film.
Net als in de film, ik wil het.