Laatst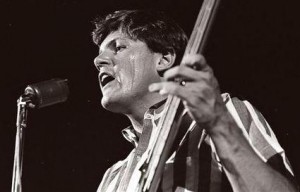 was ik enorm blij een oude liefde terug te vinden. Het was het lied Disney Girls van de The Beach Boys, dat ik vroeger veel heb gezongen. En dan vind ik zomaar een live-uitvoering door de songwriter Bruce Johnstone zelf, in een zeer intense uitvoering met alleen een piano en een stem. Het mooie is dat het niet volmaakt is, maar wel heel erg eigen. Net alsof hij in je huiskamer speciaal voor jou zingt en piano speelt en de woorden en accoorden ter plekke verzint. Als je dat voor ogen houdt, is het werkelijk prachtig!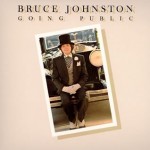 Bruce Johnstone kwam in 1965 bij de The Beach Boys als vervanger van Glenn Campbell, die Brian Wilson bij optredens verving. Na een pauze van 1972 tot 1978 (waarin dit optreden valt), speelt hij nog steeds in de band. Disney Girls staat op het Beach Boys album Surf's Up uit 1971 en op zijn eigen album Going Public uit 1977. Dit live optreden is uit het BBC-programma Old Grey Whistle Test van 1975.
Disney Girls
Clearing skies and drying eyes,
now I see your smile.
Oh my sadness goes,
and your softness shows me,
a changing style.
Just in time, words that rhyme,
bless your soul.
Now I'll fill your hands,
with my kisses and a Tootsie Roll.
Oh reality, you know it's not for me,
and it makes me laugh.
Oh fantasy world and those Disney girls,
yes I'm coming back.
Patti Page and those summer days,
out on old Cape Cod.
All those happy times,
making home-made wine,
down in my garage.
I remember country shade
and sipping lemonade,
I guess I'm slowing down.
You know it will be a turned back world,
with a local girl,
in a little smaller town.
All those open cars
and those clearer stars,
oh that soft laugh of yours.
But fantasy world and those Disney girls,
yes I'm coming back.
Love. Hi Rick and Dave.
Hi Pop. Well good morning mom.
Love. Get up, guess what,
did you know that I'm in love
with a girl that I found.
She's really swell,
cause she likes church, bingo chances,
and all those old time dances.
All my life, did you know
that I spent the night,
with my dreams of you.
And the warmth I missed,
and for all those things that I wished for,
now they're all coming true.
I've got some love to give,
and a little place to live.
Guess I'm gonna stay.
It'd be a perfect life,
with my forever wife,
and a little kid someday.
Oh we'd all have some early nights,
and some pillow fights,
and your soft laugh.
Fantasy world and my Disney girls,
yes I'm coming back.