Adembenemend: zoveel ellende in de wereld waarmee je dagelijks geconfronteerd wordt, of je nu wilt of niet. Is het niet het nieuws, dan zijn het wel de vele collectanten op straat of aan de deur die je eraan herinneren. Om je ogen daarvoor te sluiten lijkt soms een hele gezonde reactie. Aan de andere kant wil je toch ook weer geen egoïstische en ongevoelige, maatschappelijk onbewuste zak zijn. De balans daartussen blijft een wankel evenwicht. David Gray schreef er een lied over en introduceert het als volgt.
"Ik had alle basis accoorden voor een nieuw lied, en hier en daar wat stukjes tekst. De eerste zin was "en toen ging de deurbel". 's Avonds ging ik naar huis en dronk een paar glazen wijn en toen ging zowaar de deurbel. Er waren twee Iraanse kerels aan de deur. Voor ik het wist overvielen ze me met allerlei afbeeldingen en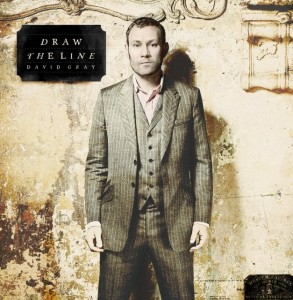 statistieken over executies van dissidente intellectuelen. En ik dacht wow, dit is zware shit. Maar toen realiseerde ik me ineens dat ik wilde relaxen en ik van die knapen en hun goede zaak af moest zien te komen. Dus schreef ik een cheque uit. Waarop zij zeiden dat de kosten van wettelijke hulp voor een enkel leven zoveel was, en dat was drie keer zoveel als wat ik had gegeven. Dat kwam flink hard binnen. Dus schreef ik nog een cheque. Maar natuurlijk voelde ik me niet erg blij met mezelf. Wat in één klap was blootgelegd, was de volslagen hypocrisie die de basis vormt van ons dagelijkse leven. Dus ging ik de volgende dag terug naar de studio en schreef ik het lied. Je weet dat dit soort zaken er zijn, maar je wilt er liever niet over nadenken." 
Ik had eigenlijk een mooie live versie opgenomen in de Abbey Road Studios voor je uitgekozen, maar die is niet meer beschikbaar. Dus doen we het maar met deze akoestische solo versie.
Breathe
Wake, wake and the moment's gone.
Wake, wake and the moment's gone. 
And then the doorbell rings.
Somebody asks you could,
you spare a little time.
To feel the weight that's mine.
To lower down your guard.
Yeah that your heart gets snagged.
Caught in the wheels and dust dragged.
Dangled o'er the edge.
Breathe
You feel you're in too deep.
So offer up some crumb,
and drop it in the tin.
Then slither back within.
Your crenulated wealth,
your educated self,
your family, your rude health.
And all the joy it brings.
Aren't we forgetting something.
Feet out on the ledge.
Feet out on the ledge.
And breathe, breathe, breathe.
Then in the heat of noon,
it finds you like some dog.
Got parked up in a field.
Hermetically sealed,
and scratching at the windshield.
And howling at the glass,
at anyone might walk past.
Were you not aware.
Were you not aware.
Breathe
The sea of broken lives.
Mechanics, doctors, housewives.
Feet out on the ledge.
Feet out on the ledge.
And breathe, breathe.