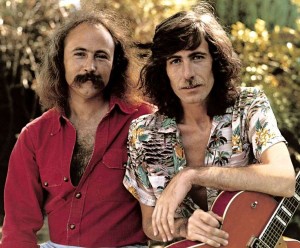 De Songcatcher is gek op meerstemmigheid in de muziek. En wat mij betreft zijn de samenzang en de harmonieën van David Crosby en Graham Nash de mooiste in de popmuziek. Eind jaren 60 en begin jaren 70 voegden ze iets nieuws toe aan het harmoniseren. Niet de voorspelbare terts en kwint bovenop de melodie, zoals toen gebruikelijk was, maar nieuwe complexe en bijzondere variaties, zoals het weglaten van de grondtoon en daarvoor in de plaats sexten, septiemen of negens er bovenop. Dat maakt hun meerstemmigheid zo uniek en tegelijkertijd zo herkenbaar, waardoor je hun geluid onmiddellijk herkent als ze met andere artiesten meezingen.
Guinnevere komt van het eerste album van Crosby, Stills & Nash uit 1969. Het mooie aan deze versie uit een concert bij de BBC in 1970, is dat hier de tweestemmige vocalen van Crosby & Nash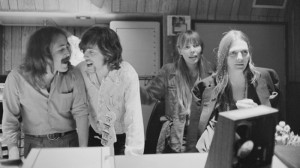 schitterend tot hun recht komen, omdat ze improviseren in hun samenzang, waardoor je heel goed hoort hoe prachtig en bijzonder het is wat ze doen.
Volgens David Crosby is Guinnevere de beste song die hij ooit heeft geschreven. Het lied beschrijft drie verschillende vrouwen uit zijn leven: Joni Mitchell, Christine Hinton (zijn eerste grote liefde, die overleed door een auto-ongeluk in 1969) en een vrouw wiens identiteit hij heeft beloofd niet prijs te geven.
Guinnevere
Guinnevere had green eyes,
like yours, mi'lady, like yours.
When she'd walk down through the garden,
in the morning after it rained
Peacocks wandered aimlessly,
underneath an orange tree.
Why can't she see me?
Guinnevere drew pentagrams,
like yours, mi'lady, like yours.
Late at night when she thought
that no one was watching at all.
On the wall.
She shall be free.
As she turned her gaze,
down the slope to the harbour,
where I lay
anchored such a short day.
Guinnevere had golden hair,
like yours, mi'lady, like yours.
Streaming out when we'd ride
through the warm wind down by the bay.
Yesterday.
Seagulls circle endlessly,
I sing in silent harmony.
We both shall be free.