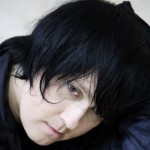 Ik werd vorig jaar volledig verrast door een zanger die ik eerst niet zag zitten. Mijn eerste indruk was: teveel hype, een rare stem en verwijfd gedoe. Maar door met andere oren te leren luisteren ben ik van mening veranderd en werd ik ineens geraakt door de muziek. Daarvoor was wel een verhaal nodig, en dat verhaal werd me verteld door Carice van Houten. (*1)
Ik zag haar bij het tv-programma Zomergasten. Carice liet daar eerst twee slakken zien die heel traag de liefde bedrijven en vervolgens een scène uit de film The Unbearable Lightness Of Being met Daniel Day Lewis & Juliet Binoche,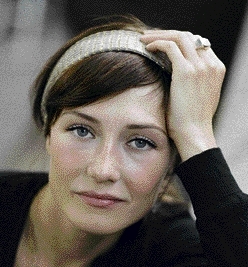 waarin hij lieve woordjes in haar oor fluistert. Daarna introduceerde ze Antony Hegarty, de zanger van Antony and the Johnsons. "Ik zag hem in 2005 in Berlijn optreden en ik heb nog nooit zoiets meegemaakt. Ik heb echt prachtige concerten gezien in mijn leven, maar dit was echt … Ik had het idee dat het hele publiek zo zat te luisteren (ze steekt haar duim in haar mond, ms), alsof we allemaal kleine kinderen waren in de veilige armen van onze vader of moeder."
Het nummer van Antony wat ze had uitgekozen, was Crazy In Love, een cover van Beyoncé, maar met een totaal anders sfeer dan het origineel. Het is een prachtig lied over hoe kwetsbaar liefde kan zijn. Antony zingt het met totale overgave en weet een intimiteit te creëren die me naar binnen trekt en me op plekken brengt in mezelf die heel kwetsbaar zijn. Toen ik naar zijn cd's luisterde en daar de voor mij mooiste nummers uitkoos als One Dove, Everglade, Her Eyes Are Underneath The Ground en Man Is The Baby, had ik weer die ervaring. Ik werd een andere wereld ingetrokken en enorm geraakt op een heel diep niveau.
Maar dat heeft ook tot gevolg dat je er niet altijd tegen kan, zoals Carice zegt: "Af en toe kan ik het ook niet meer horen, heb ik er last van en is het me te intiem. Maar als ik het dan weer zie, dan heeft hij me toch weer te pakken." Er zullen ook mensen zijn die zo ie zo niet naar zo'n diepere gevoelslaag willen afdalen en het mede daarom vreselijke muziek vinden. Ik ben heel benieuwd hoe jij erop reageert.
NOTEN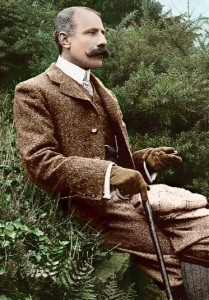 *1 Carice van Houten heeft zelf een heel muzikale achtergrond met een vader, Theodore van Houten, die musicoloog is en vooral bekend geworden is door zijn studie van de Britse componist Edward Elgar (1821-1906). Carice is vernoemd naar Carice Irene (1890), Elgar's dochter, die op haar beurt haar naam van haar eigen moeder Caroline Alice Roberts heeft. Samen met  haar zus Jelka werd ze van jongs af aan meegenomen naar allerlei theater- en filmvoorstellingen en concerten.
Met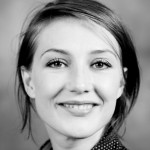 Carice heb ik altijd verwantschap gevoeld omdat ik zelf een van Houten ben (van moederskant) en als geboren en getogen Utrechter trots ben dat ze in mijn stad is opgegroeid. Ze woonde in Amelisweerd en zat op het Bonifatius College.
Crazy in Love
I look and stare so deep in your eyes
I touch you more and more every time
When you leave I'm begging you not to go
Call your name two or three times in a row
Such a funny thing for me to try to explain
How I'm feeling and my pride is the one to blame
But I still don't understand
Just how your love can do what no one else can
Got me looking so crazy right now, your love's
Got me looking so crazy right now
Got me looking so crazy right now, your touch
Got me looking so crazy right now
Got me hoping you'll save me right now, your kiss
Got me hoping you'll page me right now
Looking so crazy in love
Got me looking, looking so crazy in love. Oh
When I talk to my friends so quietly
Who he think he is? Look at what you done to me
Tennis shoes, don't even need to buy a new dress
You ain't here ain't no one else to impress
Just the way that you know what I thought I knew
Just the beat my heart skips when I'm with you
But still I don't understand
Just how your love can do what no one else can
Got me looking all crazy right now, your love's
Got me looking all crazy right now
Got me looking all crazy right now, your touch
Got me looking all crazy right now
Got me hoping you'll page me right now, your kiss
Got me hoping you'll save me right now
Looking so crazy in love, got me looking
Got me looking so crazy in love. Oh yeah
Got me looking all crazy right now, your love
Got me looking all crazy right now
Got me looking all crazy right now, your touch
Got me looking all crazy right now
Got me hoping you'll page me right now, your kiss
Got me hoping you'll save me right now
Looking so crazy, love got me looking
Looking so crazy in love. Whoa
Baby right now
Baby right now
Looking, you got me looking
Got me looking so crazy
Looking so crazy in love
Got me looking, looking so crazy in love. Oh Oh