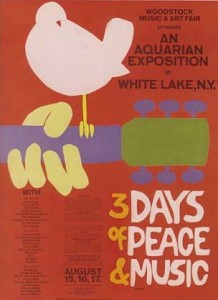 Eén van de ongelukkigen die niet bij Woodstock (*1) kon zijn was Joni Mitchell. Het festival was van 15 tot 18 Augustus 1969 en de dag erna had ze een tv-optreden in de Dick Cavett Show. Volgens haar manager was het risico te groot dat ze te laat zou komen en dat zou schadelijk zijn voor haar carrière. Maar ze zou niet veel missen volgens hem, behalve "in een weiland zitten met 500 man". (*2) En dat bleek met de wijsheid achteraf een flinke misvatting.
Wat het nog erger maakte was dat het op tijd zijn niet nodig bleek, omdat David Crosby, Stephen Stills en Grace Slick met haar groep Jefferson Airplane keurig op tijd bij de show arriveerden na hun succesvolle optreden op Woodstock. Zo horen we David Crosby in de show enthousiast beschrijven wat hij vanuit de helikopter neerkijkend op het festival had gezien: "Het was alsof je een kamp zag van het Macedonische leger op een Griekse heuvel,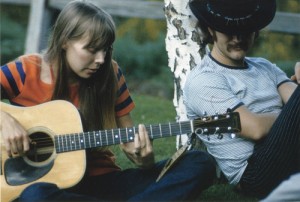 gecombineerd met de grootste verzameling zigeuners die je ooit zal zien." (*3) Joni huilde tranen met tuiten, toen ze ook de dagen erna haar vriend Graham Nash, diens maten Crosby & Stills (*4) en John Sebastian vol enthousiasme hoorde vertellen over wat voor bijzonders ze allemaal hadden meegemaakt, terwijl zij in haar hotelkamer in New York naar de tv had moeten kijken. En toen besloot ze er maar een lied over te schrijven (terug te vinden op het album Ladies of the Canyon uit 1970) en er een kunstwerk over te maken. (The Road To Woodstock).(*5)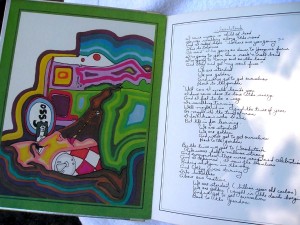 De meest bekende covers van het lied zijn die van Crosby, Stills & Nash (van het album Déjà Vu) en van Matthews Southern Comfort, die er beide in 1970 een hit mee hadden. Ik kies hier voor de onbekende, maar zeer geslaagde versie uit 1973, van de groep Skylark, die net als Joni uit Canada afkomstig zijn. (*6)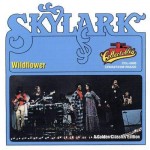 Skylark was in 1971 opgericht door de R&B zangeres B.J. Cook. Haar man, de toetsenist David Foster, was talentvol maar erg verlegen en was net ontslagen uit zijn vorige band omdat hij geen uitstraling zou hebben. Zijn echtgenote was loyaal en vertrok met hem en besloot om zelf een nieuwe band te vormen met andere talentvolle Canadese artiesten. Hoogtepunt voor de groep was het optreden in de tv-show Midnight Special in 1973, met hun hit Wildflower  uit het jaar daarvoor en deze uitstekende cover van Woodstock. Let daarbij vooral op de bijzondere samenzang in de laatste minuut, met de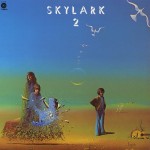 falsetstemmen van de twee andere lead-zangers van de groep, Donny Gerrard (*7) en Carl Graves (*8). De andere muzikanten zijn: Allan Mix (gitaar), Steven Pugsley (bas) en Brian Hilton (drums). De groep bracht twee albums uit, maar toen het tweede geen succes werd, zijn ze in 1974 uit elkaar gegaan. David Foster heeft zijn schroom later van zich afgeworpen en werd vanaf begin jaren 80 buitengewoon succesvol als producer en componist. (*9)
NOTEN 
*1 Op Woodstock traden ondermeer de volgende artiesten op. Dag 1: Joan Baez, Arlo Guthrie Tim Hardin, Richie Havens, Melanie, Ravi Shankar. Dag 2: Canned Heat, Creedence Clearwater Revival, Grateful Dead, Incredible String Band, Janis Joplin, Jefferson Airplane, Santana, John Sebastian, Sly & The Family Stone, The Who. En dag 3: The Band, Blood Sweat & Tears, Joe Cocker, Crosby Stills & Nash, Jimi Hendrix, Ten Years After.
*2 Eerlijk gezegd valt de manager niet alles te verwijten, want wat ook meespeelde in haar keuze, was Joni's eigen gevoel dat ze niet goed tot haar recht kwam bij grootschalige concerten. Zo zien we haar tijdens het Festival op het Britse eiland Wight in 1970 het publiek terechtwijzen ("give us some respect").
*3 Kijk naar de uitleg van Joni en de binnenkomst van Stills & Crosby bij de Dick Cavett Show van 19 augustus, de dag na Woodstock. De complete show, met de optredens van Joni, Jefferson Airplane en Stephen Stills (met 4+20) kun je hier zien, en bestaat totaal uit vijf delen.
*4 Joni had de twee allereerste live-optredens van Crosby, Stills & Nash bijgewoond en nu net het meest bijzondere gemist. De mannen zelf waren "scared shitless" geweest voor hun optreden op Woodstock, omdat ze nog nauwelijks met hun repertoire hadden opgetreden.
*5 De eerste live uitvoering van Woodstock door Joni was tijdens het Big Sur Folk Festival in Californië in September 1969.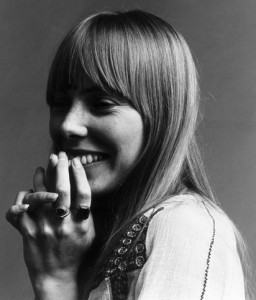 *6 Joni Mitchell bracht de eerste jaren van haar leven (1943-1965) door in Canada als Joni Anderson. Eind 1964 bleek ze zwanger van haar ex-vriend van de Kunstacademie, die plots naar Californië was vertrokken. Om veel gedoe voor te zijn trouwde ze met folkzanger Chuck Mitchell en stond na de geboorte haar kind (Kelly Dale Anderson) af voor adoptie. Een paar maanden later vertrok ze definitief naar de VS. Uiteindelijk vind het kind in 1997, na een lange zoektocht, haar moeder terug. Een artikel over dit bijzondere verhaal kun je hier lezen.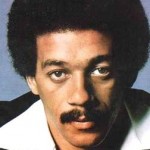 *7 Donny Gerrard werd vooral bekend als achtergrondzanger bij ondermeer Ray Charles, Cher, Neil Diamond, Elton John, Bette Midler, Dolly Parton, Bruce Springsteen en Bobby Womack.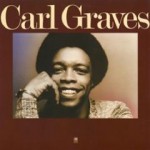 *8 Carl Graves had in 1974 een R&B hit met Baby Hang Up The Phone. Mijn favorieten van zijn enige album uit 1975 zijn Heart Be Still en Be Tender With My Love.
*9 In 1985 noemde het tijdschrift Rolling Stone David Foster "de meester van de bombastische pop kitsch". Hij produceerde succes albums als Unforgettable (Natalie Cole) en Can't Slow Down (Lionel Richie) en schreef hits voor Earth, Wind & Fire (After The Love Has Gone), Chicago (Hard To Say I'm Sorry), Whitney Houston (I Will Always Love You) en Toni Braxton (Un-break My Heart).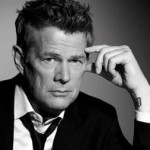 Daarnaast was hij de ontdekker van Michael Bublé, Celine Dion en Josh Groban en componeerde hij filmmuziek (St Elmo's Fire, The Secret of My Success en The Bodyguard). Vlak voor zijn doorbraak scheidde hij van BJ Cook, met wie hij eerder een dochter kreeg, Amy Foster, die inmiddels zelf doorgebroken is als tekstschrijver voor o.a. Michael Bublé (Everything). In het filmpje uit 1973 van Skylark kun je zien dat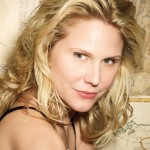 BJ hoogzwanger van haar is. Met BJ zelf is het een stuk minder goed afgelopen. Ze verdiende een aantal jaren nog wat als tekstschrijver van o.a. Let Me Go Love, die ze samen schreef met Michael McDonald voor Nicolette Larson (van het album In The Nick of Time uit 1979). Maar uiteindelijk raakte ze aan lager wal en werd ze zwaar depressief. Gelukkig herstelde ze daarvan en in 2007 werd ze geëerd als pionier van de Canadese popmuziek, doordat men de nieuwe studio van de Victoria High School naar haar vernoemde: de BJ Cook Educational Recording Institute.
Woodstock 
I came upon a child of God,
who was walking along the road.
I asked him tell me where are you going,
and this he told me.
He said, I'm going on down to Yasgur's farm,
I'm gonna join in a rock 'n' roll band.
I'm gonna camp out in the land,
and set my soul free.
We are stardust, we are golden.
We are billion year old carbon. (hier onverstaanbaar)
And we got to get ourselves,
back to the garden.
And now can I walk beside you,
I have come here to lose the smog.
And I feel to be a cog in something that's turning.
Hey now, maybe it's the time of year,
or maybe it's the time of man.
But I don't know who I am,
but life is for learning.
We are stardust, we are golden.
We are billion year old carbon. (hier onverstaanbaar) 
And we've got to get ourselves,
back to the garden.
By the time we got to Woodstock,
we were half a million strong.
Everywhere was a song and a celebration.
I dreamed I saw the jetplanes
riding shotgun in the sky.
Turning into butterflies,
across the nation.