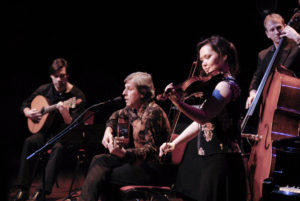 Quatro Ventos is een in Nijmegen gevestigde groep onder leiding van de Portugese zanger & gitarist Emanuel Pessanha, met op viool Aili Deiwiks, op gitaar Rafael Fraga en op bas afwisselend Lucien Matheeusen & Norbert Leurs. De groep bestaat al sinds 1996. Vozes do silencio (Stemmen van de stilte) is het titelnummer van hun 5e album uit 2006. Hier spelen ze het in de Stadsschouwburg van Nijmegen in 2008, samen met de Engelse singer/songwriter Iain Matthews, die ook in Nederland woonachtig is, in het dorp Horst (Limburg), waar hij de liefde vond. Matthews is al vanaf begin eind jaren 60 muzikaal actief, eerst in de groep Fairport Convention en daarna vooral solo, maar tegelijkertijd speelde hij ook regelmatig samen met anderen, zoals in de groep Plainsong.
Bij de tekst heb ik alleen het Engelstalige deel kunnen ontcijferen, behalve dan het gedeelte dat Iain Matthews sprekend doet, want dat versta ik niet goed. Als iemand het Portugees mocht kunnen benoemen, dan hoor ik dat heel graag.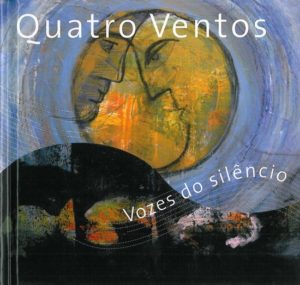 Vozes do silencio
In the sphere of losing you,
my pain is like the mist.
Dissolving in the afternoon,
in a dream made of fado.
Sometimes she sleeps without dreaming.
Sometimes she dreams without sleeping.
In the morning she wakes up laughing,
and sometimes crying.
Cut the ropes and come with me.
Accept this challenge.
Let the sound of guitars be heard.
Board this ship with me.