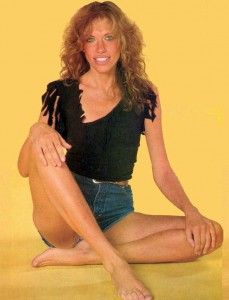 Als groot fan van James Taylor kwam ook Carly Simon bij me in beeld, omdat James in zijn hoogtijdagen meespeelde op haar albums. Haar songs en de manier waarop ze die zong raakte me en nu ik wat meer van haar persoonlijke verhaal weet snap ik ook beter hoe dat kwam. Dus pak een stoel en ga erbij zitten, want ik ga het hier aan je vertellen.
Carly was naast Linda Ronstadt (*1) en Rita Coolidge (*2) één van de meest sexy en begeerde zangeressen van de jaren 70. Ze had kortstondige relaties met beroemdheden als Cat Stevens (*3), Warren Beatty, Mick Jagger, Jack Nicholson en Kris Kristofferson (*4). En ze was niet alleen mooi en sexy, maar ook een bijzondere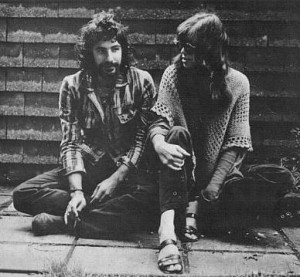 singer/songwriter die grote muzikale successen had, met een nummer 1 hit als You're So Vain (1972) dat gaat over een aantal van die mannen gecombineerd. En daarnaast was er ook nog het romantische sprookjeshuwelijk met James Taylor. Alles leek rozengeur en maneschijn, maar in werkelijkheid was het tegelijkertijd een tranendal vol ellende en tegenslag, waarin ze veel te overwinnen had. (*5)
Het gezin waar Carly in opgroeide was welgesteld maar ook nogal disfunctioneel. Vader was de oprichter en eigenaar van de bekende uitgeverij Simon & Schuster. Eigenlijk had hij pianist willen worden, maar dat mocht niet van zijn autoritaire vader. Tijdens haar jeugd kreeg hij steeds meer last van  depressies en onduidelijke fysieke klachten. Haar oudere zussen waren zijn favorieten, terwijl het Carly maar niet lukte om bij hem in beeld te komen. De spanningen thuis werden nog groter toen haar moeder een affaire begon met een meer dan 20 jaar jongere man die bij hen inwoonde, zogenaamd als oppas voor de kinderen.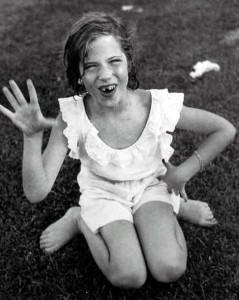 Carly leed onder de situatie en werd steeds onzekerder. Tot overmaat van ramp werd ze ook nog eens misbruikt door een oudere jongen toen ze 7 jaar oud was. Vanaf haar 5e begon ze te stotteren (*6) en dat groeide vanaf haar 8e uit tot een enorme faalangst om te spreken in het openbaar.
Zoals bij veel stotteraars (zoals Bill Withers en Miss Montreal) bleek zingen haar redding. Omdat ze geleidelijk aan steeds meer behandeld werd als een gehandicapt kind, bedacht haar moeder op haar 10e ineens dat Carly niet stotterde als ze zong. Dus zei ze tegen haar, "zeg het niet, maar zing het tegen me!" En dat werkte wonderwel, terwijl daardoor ook haar wonderbaarlijke zangtalent zich openbaarde. Toch bleef op den duur het stotteren en de faalangst (om te gaan stotteren) haar achtervolgen, want optreden in het openbaar bleef haar zwakke punt. Die enorme plankenkoorts leidde er uiteindelijk toe dat ze in een zangcarrière van 35 jaar maar in totaal 64 concerten heeft gegeven.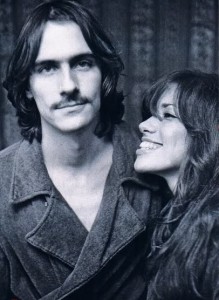 Haar huwelijk met James Taylor (*7) was ook geen sprookje, omdat hij regelmatig depressief was en bovendien zwaar verslaafd aan alcohol en heroïne. Ook was hij veel de hort op voor optredens, waardoor zij alleen voor de kinderen moest zorgen. Ze schreef er het prachtig lied Fairweather Father (1976) over en hij het ontroerende Daddy's All Gone (1976). Hun zoon Ben had als kind veel gezondheidsproblemen (met name koortsaanvallen), maar volgens James en veel anderen hoefde Carly daar niet zo paniekerig over te doen. Maar uiteindelijk bleek haar voorgevoel te kloppen en werd ontdekt dat een deel van Ben's nieren niet goed werkte. Tijdens de zware operatie die volgde was James weer meer afwezig dan aanwezig en dat was voor Carly de laatste druppel. Ze stelde hem een ultimatum dat hij voortaan meer thuis moest zijn voor haar en de kinderen.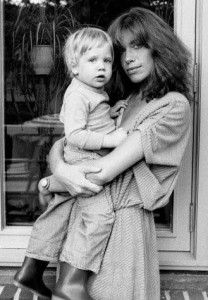 Zijn antwoord was duidelijk, want het album wat hij op dat moment aan het maken was kreeg de titel Dad Loves His Work (1981). Na de scheiding had Carly veel moeite om zich van hem los te maken, zo sterk was haar gevoel voor hem, en lang hoopte ze dat hij terug zou keren. Wat het vooral pijnlijk maakte was dat James na de scheiding met een nieuwe vrouw ineens in staat bleek om definitief af te kicken van drugs en alcohol.
Volgens haar zoon Ben is Carly een vrouw "die haar zenuwgestel als veren aan de buitenkant van haar lichaam draagt". Een zeer gevoelige vrouw dus, en dat hoor je ook terug in de songs die ze in de loop der jaren geschreven heeft. Ze zingt open en eerlijk over wat haar overkomen is in het leven, over de tegenslag die ze heeft moeten verwerken, over haar gevoelens, en ze stelt zich daarbij kwetsbaar op.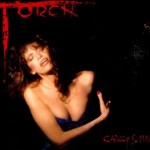 Nu snap ik ook eindelijk waarom haar teksten en de intense manier waarop ze haar songs zingt me zo diep raken. Zo heb ik heel wat gehuild om haar album Torch (1982), een ultiem uit-elkaar-cover-album dat net uitkwam toen mijn relatie van vijf jaar verbroken was. Net als voor mij was muziek voor haar blijkbaar ook een manier om haar verdriet te verwerken. Vooral I'll Be Around en Not A Day Goes By heb ik toen veel gedraaid en menig traan bij geplengd. Het inspireerde me om mijn eigen uit-elkaar liedjes te schrijven en samen met een paar vrienden te starten met een musical over het onderwerp. Maar daar kwam uiteindelijk niets van, omdat op een gegeven moment het verdriet weer voorbij was.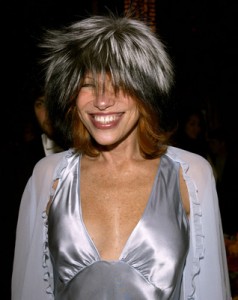 Zo zie je maar weer hoe belangrijk muziek en zingen kan zijn in een mensenleven of  je nou Songcatcher bent of een beroemdheid als Carly Simon. Haar muzikaliteit, het zingen en songs schrijven was haar redding. Nu ik haar persoonlijke verhaal ken, heb ik grote bewondering gekregen voor haar wilskracht en luister ik met andere oren naar haar songs.
Ik wil je na dit verhaal niet laten zitten met een somber of verdrietig gevoel, en daarom het ik gekozen voor Carly's lichtvoetige lied Happy Birthday van het album Have You Seen My Lately (1990) dat ze in 1991 live uitvoerde.
NOTEN
*1 De Songcatcher schreef hier al eerder over Linda Ronstadt.
*2 Rita Coolidge werd bekend als Delta Lady en inspireerde een verliefde Leon Russell om een lied over haar te schrijven met die titel, dat bekend werd in de versie van Joe Cocker in 1969.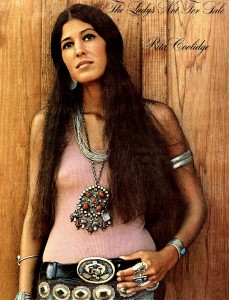 Toen ze hem verliet voor Kris Kristofferson schreef Russell het prachtige A Song For You (1970) in de hoop haar terug te krijgen, maar dat mocht niet baten. Coolidge liet meer gebroken harten achter zich, want het gerucht gaat dat het uiteenvallen van Crosby, Stills & Nash in 1970 werd veroorzaakt doordat ze Stephen Stills verliet voor Graham Nash.
*3 Carly Simon en Cat Stevens hadden een relatie in 1969 en 1970. Haar eerste grote optreden was als zijn voorprogramma in de befaamde nachtclub The Troubadour in Los Angeles in 1971. Cat schreef over haar het prachtige Sweet Scarlet, terwijl Carly twee songs over hem schreef. Anticipation (1971) gaat over de spanning van het wachten totdat hij haar op komt halen voor hun eerste date, terwijl Legend In Your Own Time (1971) gaat over een ster die als hij weer alleen naar huis gaat ineens weer een gewone kleine jongen is.
*4 Kristofferson schreef I've Got To Have You voor haar. Carly zong het op haar tweede album Anticipation (1971). Hier zingt hij het zelf in een duet met Rita Coolidge op zijn album Breakaway (1974).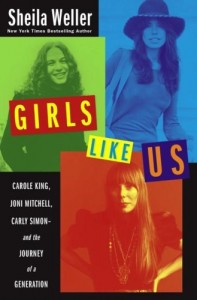 *5 Veel informatie over het leven van Carly Simon en ook dat van Carole King en Joni Mitchell vind je op deze site.  Hierop staan een aantal hoofdstukken (met veel illustraties en video's) uit het boek Girls Like Us: Carole King, Joni Mitchell, Carly Simon and the Journey of a Generation van Sheila Weller uit 2008. Er schijnt binnenkort een film van gemaakt te worden.
*6 Lees hier haar eigen verhaal over het stotteren.
*7 Het allereerste artikel van de Songcatcher ging over James Taylor en het lied dat ik daarbij uitkoos was You Can Close Your Eyes dat hij met Carly Simon zong in hun huis in 1976 terwijl ze zwanger was van hun eerste kind Sarah.
Happy Birthday
It's all of our birthdays this summer.
One number older, another year younger.
I'll go to your party, you'll come to mine.
We've given up cigarettes, we've given up wine.
We've given up caffeine and sworn off desserts.
I don't try to seduce you, we don't even flirt.
We're too good to be happy, too straight to be sad.
So just blow out the candles.
Happy Birthday.
Stay out of the ocean, stay out of the sun.
Stay in perfect shape and be number one.
We've got brilliant excuses for having no fun.
So just blow out the candles.
Happy Birthday.
Make love in the microwave,
think of all the time you'll save,
and don't forget to make it look,
as though you're working very, very hard.
But I'll be your lover, if you will be mine.
We'll go back to the garden and have a good time.
And if I'm offered an apple, I'll politely decline.
And just blow out the candles.
Happy Birthday.