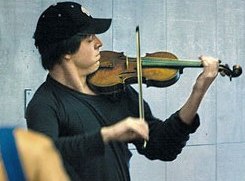 7.50 Een metro station. Een koude morgen in Januari. Het is spitstijd en iedereen haast zich naar zijn werk. Er staat een straatmuzikant die viool speelt.
7.53 Een man van middelbare leeftijd vertraagt zijn stappen, draait zijn hoofd naar de muzikant toe en haast zich dan weer verder.
7.54 Een vrouw  gooit een munt in de vioolkist en loopt weer snel door.
7.56 Een jonge man stopt, loopt weer door en komt weer terug. Hij kijkt op zijn telefoon en ziet dat hij nog drie minuten heeft. Hij heeft niks met klassieke muziek en blijft eigenlijk nooit luisteren naar straatmuziek, maar deze keer maakt het hem rustig. Hij luistert, leunend tegen de muur en na drie minuten loopt hij weer door, terwijl hij voor het eerst van zijn leven geld achterlaat.
7.59 Er komt iemand langs die op zijn iPod luistert naar The Cure. Hij ziet geen straatmuzikant.
8.07 Een driejarig jongetje stopt, maar zijn moeder trekt hem gehaast met haar mee. Het jongetje blijft omkijken terwijl hij meegetrokken wordt. Met ieder kind dat daarna langsloopt, gebeurt precies hetzelfde. Het kind wil kijken, de ouder trekt het mee.
8.14 Een vrouw loopt langs, ze ziet de violist en vraagt zich af of een straatmuzikant eigenlijk wel zijn brood kan verdienen. Ze werkt in de financiële sector.
8.19 De schoenenpoetster raakt geïrriteerd door de herrie. Vanwege al dat lawaai van die straatmuzikanten kan ze haar klanten niet goed verstaan en dat is slecht voor de zaken. Meestal belt ze gelijk de politie om te klagen, maar deze keer niet want hij speelt best aardig.
8.21 Een man komt aanlopen, hoort de muziek en staat plots doodstil. Hij gaat een beetje achteraf staan kijken, hij wil zich niet opdringen. Hij geniet met volle teugen, want hij houdt van klassieke muziek en hij heeft als kind ooit serieus viool leren spelen. Hij beschouwt de muziek als een cadeautje; een briljante manier om de dag te beginnen. Hij blijft tot het eind en geeft vijf dollar.
8.25 Er blijven meer mensen staan luisteren, blijkbaar doet de straatmuzikant toch iets bijzonders. Er staat een vrouw bij die ook als kind viool speelde. Zij heeft koffie-pauze en blijft zo lang als ze durft. "Ik wil helemaal niet weg", fluistert ze tegen haar buurman.
8.32 Een andere vrouw blijft ook staan, ze weet niets van klassieke muziek, maar heeft de straatmuzikant drie weken eerder zien optreden tijdens een gratis concert in een grote bibliotheek. Ze krijgt een enorme grijns op haar gezicht, want ze realiseert zich dat wat zich hier afspeelt heel bijzonder is. In wat voor een stad kan zoiets gebeuren? Hebben die mensen die kleingeld geven dan helemaal niets door?
8.35 Als de straatmuzikant klaar is met spelen spreekt de vrouw hem aan.                     Hij bedankt haar. Verder is het doodstil. Niemand applaudisseert.
In de 3 kwartier dat de straatmuzikant speelde zijn er ongeveer 1000 mensen langs gekomen. 7 ervan nemen de moeite om minstens 1 minuutje te luisteren. 27 geven geld, totaal 32 dollar en 17 cent. Op die ene vrouw na aan het slot heeft niemand de straatmuzikant herkend.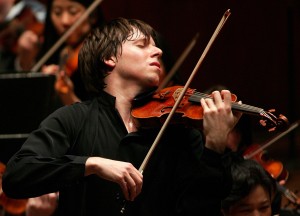 Het was namelijk, zoals je inmiddels al vermoedde, niet zomaar iemand, maar de wereldberoemde violist Joshua Bell (*1) die 6 klassiekers speelde, waaronder 1 van de meest ingewikkelde stukken ooit geschreven voor viool. (*2)        Hij speelde op een Stradivarius uit 1713 die $3.500.000 dollar waard is.
Dat hij incognito speelde in een metro station in Washington DC in 2007, had te maken met een sociaal experiment naar context, perceptie, smaak en prioriteiten, georganiseerd door the Washington Post. (*3)
Een dergelijk optreden van een beroemdheid als staatmuzikant, roept namelijk allerlei vragen op.
Nemen we schoonheid waar in een alledaagse omgeving op een ongeschikt tijdstip?
Stoppen we om het te appreciëren?
Herkennen we het bijzondere in een onverwachte context?
Als een beroemd musicus beroemde muziek speelt en niemand luistert, is hij dan wel echt goed? (*4)
Is schoonheid een meetbaar feit, een mening of een beetje van allebei gekleurd door de gemoedstoestand van de observator?
En misschien wel de belangrijkste vraag: Als we niet even de tijd nemen om te stoppen en te luisteren naar één van de beste muzikanten in de wereld, die prachtige muziek speelt op een uitzonderlijk instrument, hoeveel andere dingen missen we dan als we ons haasten door het leven?
We luisteren maar horen niet. We kijken maar zien niet. We zijn druk en lopen te rennen. We hebben andere dingen aan ons hoofd.
What is this life if, full of care,
We have no time to stand and stare.
No time to stand beneath the boughs
And stare as long as sheep or cows.
No time to see, when woods we pass,
Where squirrels hids their nuts in grass,
No time to see, in broad day light,
Streams full of stars, like skies at night.
No time to turn at beauty's glance
And watch her feet, how they can dance.
No time to wait till her mouth can
Enrich that smile her eyes began.
A poor life this if, full of care,
We have no time to stand and stare.(*5)
 
NOTEN
*1 Joshua Bell (1967) kreeg zijn eerste vioollessen toen hij vier was. Zijn ouders, psycholoog en therapeut, besloten daartoe omdat ze hadden gemerkt dat hun zoon zijn moeders pianomuziek naspeelde met behulp van elastieken,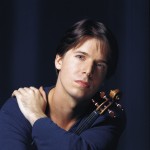 die hij thuis had verzameld en die hij spande over de handvatten van de lades van een kast in zijn kamer. Door de lades te verschuiven was hij in staat de toon te veranderen. Toen hij elf was deed hij mee aan een wedstrijd en was hij erg nerveus. "Ik begon met de ergste blunder van mijn leven, mijn vingers gleden van de viool af. De moed zakte in mijn schoenen toen ik realiseerde dat ik op deze manier nooit zou winnen. Dus gaf ik het op om perfect te zijn en wonderlijk genoeg gaf dat een heerlijk gevoel van vrijheid. Ik gaf de beste performance van mijn leven, en nam de prijs mee naar huis."
*2 De straatmuzikant speelde de volgende stukken: Chaconne van Bach (één van de moeilijkste vioolstukken) – Ave Maria van Schubert – Estrellita van Manuel Ponce – een stuk van Jules Massenet – een gavotte van Bach – en nogmaals de Chaconne van Bach.
*3 Lees het hele verhaal (met stukjes film erbij) uit de Washington Post.                      Gene Weingarten, de schrijver, won er in 2008 de Pulitzer Prize mee.
*4 Joshua Bell zegt zelf over zijn optreden als straatmuzikant: "Ik wist niet wat ik er van moest verwachten en was nerveus. Stel je voor dat ze me niet zagen zitten. Of dat ze mijn aanwezigheid zelfs vervelend zouden vinden. In het begin concentreerde ik me volledig op het spelen van de muziek. Ik keek niet naar wat er om me heen gebeurde. Maar na een tijdje kreeg ik een raar gevoel omdat mensen me negeerden. Tijdens een normaal optreden raak ik geïrriteerd als iemand hoest of als iemands mobiele telefoon afgaat, maar hier werden mijn verwachtingen snel minder. Ik begon iedere erkenning, hoe klein ook, te waarderen. En ik was bijzonder dankbaar als iemand een dollar gaf in plaats van kleingeld. Het ergste was het moment aan het einde van een stuk, want er gebeurde niets. Geen applaus, geen erkenning, niets. Het leek wel alsof ik onzichtbaar was, terwijl ik toch een hoop lawaai maakte!"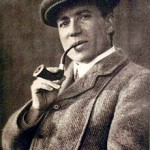 *5 Fragment uit een gedicht van W.H. Davies (1871-1940), schrijver van o.a. An Autobiography of a Super-Tramp (1908). Davies was een dichter uit Wales, die een tijdlang leefde als zwerver in het Verenigd Koninkrijk en de Verenigde Staten. Hij verloor een been toen hij op de trein wilde springen, waardoor hij zijn wilde haren kwijtraakte en terugkeerde naar Engeland. Het gedicht Leisure uit 1911 is zijn beroemdste.