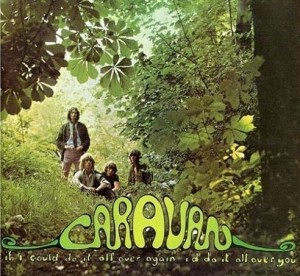 De Engelse stad Canterbury is niet alleen bekend van de kathedraal en de verhalen van Chaucer (The Canterbury Tales), maar ook als een centrum van de progressieve rockmuziek in de jaren 60 en 70 met bekende namen als Soft Machine, Camel en Mike Oldfield. Voor mij is de Canterbury Sound vooral de groep Caravan. Gestimuleerd door mijn broer Roeland ontwikkelde ik me in de jaren 70 tot een muzikale veelvraat. Eén van zijn ontdekkingen was het album If I Could Do It All Over Again I'd Do It All Over You (1970) en daar raakte ik al snel aan verslaafd. Wat een meeslepende muziek! Lekker ritmisch, goede zang en fascinerende improvisaties op orgel, die me stimuleerden om ook zelf te gaan soleren, maar dan op de piano.
De oorsprong van Caravan lag in de band Wilde Flowers (1964-1967). Na het vertrek van Robert Wyatt en Kevin Ayers in 1966, die Soft Machine oprichten, ontstond in 1968 Caravan met Pye Hastings (gitaar/zang), Richard Sinclair (gitaar/bas/zang), zijn neef Dave Sinclair (toetsen) en Richard Coughlan (drums). Hun muziek is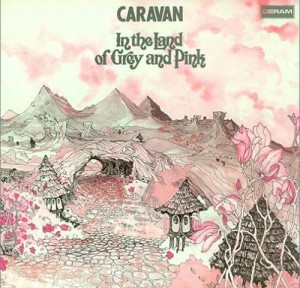 een bijzondere combinatie van folk, jazz, psychedelica en rock. Geïnspireerd door Tolkien-achtige fantasy en met een pastorale, melodieuze sfeer: dus wat mij betreft pastorale rock.
Het lied Winter Wine komt van het album In The Land Of Grey And Pink (1971) en werd gespeeld in het Duitse tv-programma Beatclub (Juni 1971). Het heeft een heerlijke tekst over dromen.
Winter Wine
Winter wine,
are you always flowing,
blowing in my mind?
Like a stream,
this magic waters
move me to a dream.
Of travelling with you, drifting carefree,
dropping downward through fresh grasses,
bubbles merrily as it passes,
never knowing where you're going.
Carry me with you, carry me with you.
Be conjured up in a midnight dream,
ancient castles dark.
As wandering minstrels play,
tunes of yesterday.
When dragons roamed the land.
Knights in armour cold,
charged on horseback bold.
The maids were saved,
the dragons slain.
Sail scene, sea green,
sailing forward to a new land.
Treasure waits, paradise gates,
for the taking, don't start waking.
All you need, but take heed,
remember it pays to pay the sandman well.
Make no fuss, for you must, in stardust.  
He puts all the colours in your dreams.
Bells chime, three times.
Naked dancers enter slowly.
Smoky room, scented gloom.
Audience eating, fat men drinking.
Candles burn, a dull red light
illuminates the breasts of four young girls.
Dancing, prancing, provoking.
Dreams are always ending far too soon.
Life's too short to be sad.
Wishing things you'll never have.
You're better off,
not dreaming of the things to come.
Dreams are always ending far too soon.
Sounds of a distant melody.
Once played, lost from memory.
It's funny how it's clearer now,
you're close to me.
We'll be together all the time.